Avannis feedback management provides a comprehensive array of options to get the right information to the right people at the right time.  Reports are customized for each role in your organization, include dashboard features that make data easy to interpret, and include push reporting features to ensure action is taken in a timely manner.  As with all Avannis services, you can choose to use all of our reporting features, or only those you need to achieve your objectives.
Role-based Reporting
Push Reporting
Dashboarding
Role-Based Reporting
Avannis reporting provides each member of your organization the right information to manage their specific roles and responsibilities.  Executives get a full view of all reserach results across channels while branch managers see how each of their individual staff members are performing.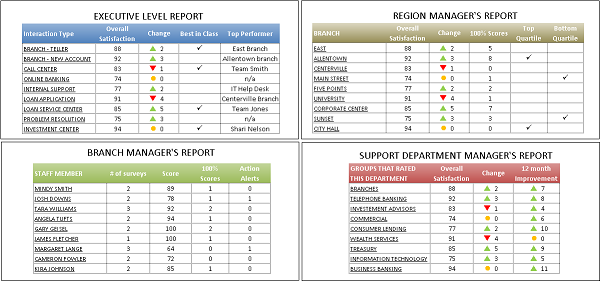 Push Reporting
Notifications fitting any set of criteria can be pushed directly to team and branch members as soon as the data is collected.  These notifications keep staff engaged in a positive way and enable recovery efforts to be prompt and effective.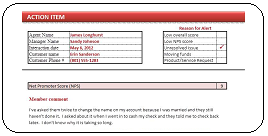 Action Items
These alerts are pushed directly to you within 1 business day and notify you of urgent concerns raised by the customer during an Avannis survey.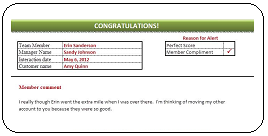 High Fives
Pushed to you within 1 business day, these alerts let you know when a staff member had received an exceptional rating or comment from a customer.
Coaching Form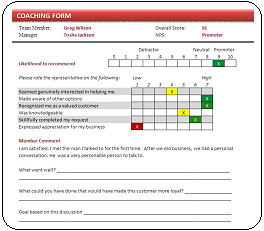 An excellent tool for reviewing results and setting goals one-on-one with your staff members.  These can be sent to you daily, weekly, or at any interval you specify.
Dashboarding
Avannis reporting is fully customizable and allows you to quickly gain insights that drive action.  You can choose the features you want in your dashboard, or Avannis can recommend a dashboard based on our experience and knowledge of your organization.  Some of the features often used by Avannis clients include the following: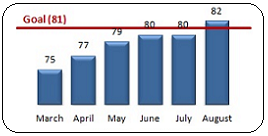 Trend vs. Goal
Provides a quick view of how you are progressing month over month toward your goals.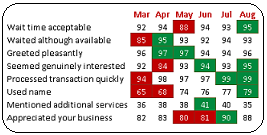 Driver Performance
A snapshot of how you are performing on important service drivers, with high and low scores highlighted for quick action.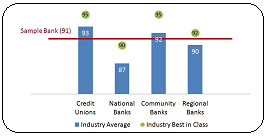 Comparison to Industry
An overview of how you compare to various types of financial institutions in your geographical region.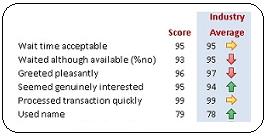 Individual Driver Industry Comparisons
Comparisons to peers on the specific behaviors and drivers you want to emphasize.

Sentiment Analysis
A general sense of how positive or negative customers are feeling about you in any given period

Text Analysis
A summary of key topics mentioned by customers for each delivery channel or touchpoint.